This cover was made 99% with the author's guidance and desires. I made the newspaper in the background and used stock images for the rest.
Means & Oppiortunity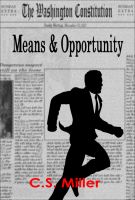 By C.S. Miller
Rating: Not yet rated.
Published: Dec. 18, 2011
Words: 90877 (approximate)
Language: English
ISBN: 9781466181502
Short description
A Washington, D.C., newspaper reporter assigned to do a feature story on death row inmates, discovers that one of the inmates he interviews is a childhood friend. After the man is executed, a number of people are murdered and evidence found at the crime scenes points to the now-dead death row inmate. Police begin to suspect the reporter.