There's Nothing Romantic About Washing the Dishes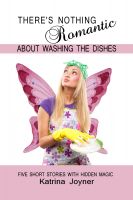 By Katrina Joyner-Belcher
Published by Writers of the Apocalypse
Rating: Not yet rated.
Published: Oct. 18, 2009
Words: 10952 (approximate)
Language: English
ISBN: 9781452324135
Short description
Four short stories, most of which are based on true events. All of which show a rare side from science fiction and fantasy writer, Katrina Joyner. Silver Over It Ghost in the Water The Glass of Cappuccino
Extended description
Four short stories, most of which are based on true events. All of which have nothing to do with fairy tale magic so much as fairy tale meaning, and show a rare side from science fiction and fantasy writer, Katrina Joyner.
Silver – Redemption can come in many ways, depending on how you find it and where you look.
Over It – Sometimes when faced with your evil stepmother, leaving bread crumbs on the trail is not enough.
Ghost in the Water – When water spirits need rescue, heroes come in many shapes and sizes.
The Glass of Cappuccino – Your fairy godmother may be closer than you think, and her motives may not be so easy to understand.