E-comic formatted and created by myself. The cover needs updating, but it's fine how it is for now.
10 Confessions & A Kiss Chapter 1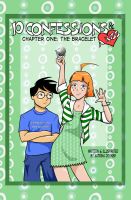 By Katrina Joyner-Belcher
Published by Writers of the Apocalypse
Rating: Not yet rated.
Published: Sep. 06, 2010
Words: 467 (approximate)
Language: English
ISBN: 9781476398532
Description
Zoe is a spunky college girl. Alexi is her best friend and is always on the watch to keep her from going into "girl mode". Together, they visit a gypsy fortune teller where Zoe gets into a world of trouble. She is cursed by the bracelet of the Princess Zomigod and now has only a year to find her true love – or she dies!
However, Zoe may be spunky but she's very boy shy… and never has even been kissed. She doesn't know what to do! Her antics get her into 10 Confessions worth of trouble.
10 Confessions is only available through ebook retailers and by participating in the Kickstarter campaigns that fund the ability to make each chapter. It's website is http://www.10confessions.com.