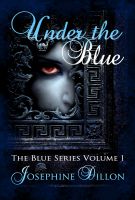 By Josephine Dillon
Rating:

(5.00 based on 7 reviews)
Published: Sep. 18, 2011
Words: 196886 (approximate)
Language: English
ISBN: 9781465793140
Short description
David Smith is on the verge of self destruction. Drawn into his dream world by a darkness he cannot detect, he unknowingly opens the door to the other side. As the darkness begins to consume him, he becomes less and less human. Under The Blue is a story of two brothers caught in the middle of a timeless war between good and evil.
Extended description
Being the two youngest sons of a conservative Christian pastor, David and Dillon Smith have a bond that keeps them closely connected. Over the course of just six days however, David unknowingly opens their closet door to another world every time he dreams. Their struggle to stay connected is suddenly challenged by a darkness that has invited itself into their bedroom. Drawn to their bond, this entity becomes intent on breaking them apart and collecting for himself, their souls. Caught in a struggle between three worlds, the brothers will learn what it is like to be only human.
Please note: the first chapter of the second book in the Blue Series is included at the end as a preview.
(16+ Contains profanity, violence, and sexual references.)