This is actually one of my own comics, but an example of comic book formatting and distribution through Smashwords. Cover design also by me.
It's a free download from Smashwords, if you're wanting to see how it turned out.
Akashik Ch1 – "An Unlikely Meeting"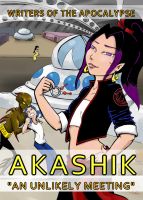 By Writers of the Apocalypse
Rating: Not yet rated.
Published: Oct. 19, 2009
Words: 283 (approximate)
Language: English
Short description
Taus isn't out for trouble. She's out for a new ship. When she trades her old clunker in for something different, she gets more than she bargained for. As if a dead hyper-drive isn't enough for worries, she finds out she has a stowaway aboard. And she might be running low on wine.