The Secret Never Shared – a book about an enduring love that spanned fate.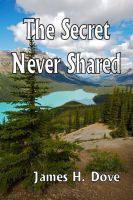 The Secret Never Shared is a warm and sensitive forty-six year love story that will arouse your emotions and bring a tear to your eye. Penny's and Dove's pure and devoted love was never-ending from the moment these two young adults met at a majestic Canadian Rocky Mountain overlook, until Dove took his last step in Pennsylvania's Cook Forest with Penny still at his side. Pain from an inability to conceive a child after suffering a miscarriage sparks questions about prayer, and how it does not always get answered in the expected manner. After twenty-one years of marriage, Dove, an author and college professor, while researching for an upcoming novel, learns a secret, a secret that could change his life. The secret shocked him, and for the first time, he withheld the crucial information and never shared it with Penny. Dove's guilt and stress, not from the secret, but from withholding the data from Penny drove him to write a novel in a nondescript computer file. The novel was complete except for the final chapter when Penny discovered the hidden manuscript five months after his death. Only after finding the file did Penny learn the secret, and it became her secret to either share or withhold forever. This is a wholesome, Christian love story you will want to share with young and old alike. The Secret Never Shared tells the story of a never-ending passionate love, professional fame, compassion for others, personal happiness and intense grief. Readers will be entranced with their personal feelings as Dove and Penny find love, but they will also connect with their feelings of despair and emptiness when personal tragedy strikes. This novel reveals the joy of first love and the grief of losing a lifetime marriage partner.
This one was a joy to format.